B2B Content Marketing for 2022: Insights from CMI
The Content Marketing Institute's Latest Report for 2022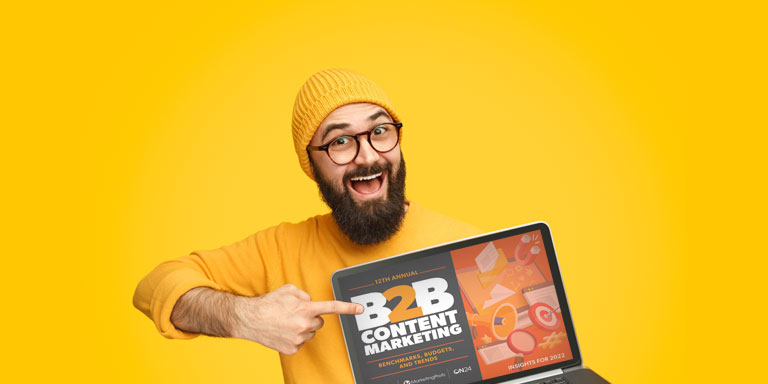 The confusion and chaos of the last couple of years has prompted several changes in the way brands connect with customers, and vice versa. Perhaps most significantly, companies have begun to recognise the importance of connecting with customers in a digital landscape through content.
Content marketing has been a valuable tool for companies looking to earn the loyalty of their target audience. However, in the post-pandemic landscape, where buyers are increasingly cautious about the brands they trust, content has never been more essential. This is true not just for B2C companies, but for B2B buyers too. After all, with the economy in turmoil, businesses are under significant pressure to make the right purchasing decisions.
The Content Marketing Institute (CMI) recently published its B2B content marketing insights for 2022, where it discusses what content marketing should look like post-pandemic.
Here are some of the most important insights from the latest report.
The Rising Value of Content Marketing
The CMI's latest research shows that 43% of marketers familiar with business spending said marketing budgets were higher in 2021, and 66% expect further increases in the year ahead. Clearly, B2B brand expect a significant ROI from content going forward. Among the areas of investment in the content landscape, certain strategies are also gaining more attention.
Video and hybrid, digital, or in-person events are among the top areas earning marketing interest for 2022. 69% of companies are planning on using more video, while 61% are looking at events. Owned media assets (57%), paid media (55%), and social media (39%) are also among the top areas of interest.
The increased focus on video and digital events may not come as much of a shock to many brands, given the events of the last couple of years. Video has become a natural part of the B2B buyer journey, with endless conversations, demonstrations and presentations now happening through video conferencing tools like Microsoft Teams and Zoom.
Additionally, while the switch to digital events started as a necessity, many companies are keen to continue investing in either online or hybrid events going forward. These flexible online interactions are an excellent way to connect with customers, without a great deal of initial investment.
The CMI found virtual events, webinars, and online courts produced the best content marketing results in the last year (58%). Other content options gaining attention were research reports (48%), short articles under 3000 words (48%), and eBooks or whitepapers (47%).
While in-person events dropped from 73% to 19% this year, the CMI suggest they could rise back to the forefront of marketing strategies post-pandemic.
Increased Demand Prompts More Outsourcing
Despite many companies making the effort to increase their content marketing efforts this year, the team members available to help with campaigns remain sparse. Around two-thirds of marketers (67%) in the CMI study found their team was asked to accomplish more, but with the same resources. Content marketing team sizes remained the same, with only 10% of respondents reporting six or more people in their content marketing strategy.
Notably, the companies in the study argued their decision to keep content marketing teams at the same size came from the pressure of the pandemic. During the lockdown stages of the last couple of years, business slowed down for a lot of companies. While many brands wanted to hire support to help them with content production, they didn't have the budget to do so. This meant a lot of companies were struggling to do more with either less talent or the same amount.
Half of all marketers have turned to outsourcing as a solution to their content issues. This is similar to the number of companies using outsourcing strategies last year. However, the CMI did not they've seen a difference in the number of larger companies outsourcing their efforts. A year ago, 61% of companies with over 1000 employees outsourced some of their content marketing efforts. This year, the percentage increased to an impressive 75%.
Additionally, the CMI notes that the issues holding companies back from further content investments may not be as significant as we move into 2022. Around 40% of marketers say that budgeting issues are still a top challenge in accessing content marketing assistance. However, this is a 10% reduction from the 50% of respondents who said the same last year.
Awareness, Credibility, and Trust are Key
The CMI note that content marketing has gained more attention from companies over the last year, but the main goal for using this strategy among most brands is still brand awareness. 80% of marketers say content helps to build brand awareness, while 75% say it builds trust, and 70% say it helps to educate audiences.
Notably, the respondents in the CMI's reports also highlight changes to their approach regarding B2B content. Brands are placing greater emphasis on talking to their customers as humans, rather than just as members of buying committees or accounts. CMI believes this is the key to building trust long-term and generating a better customer experience.
Unsurprisingly, B2B consumers agree they love being treated as real people. Companies revealed that increasing their "empathy" towards customers made buyers more receptive. These companies have noticed a growing demand for authentic relationships in the B2B environment. After all, many companies in the market today are recovering from a rough couple of years. They're looking for compassion and understanding.
Brands capable of adjusting their position to become a more customer-sensitive organisation may have what it takes to outshine their competition. Today, your clients aren't as receptive to hard selling techniques as they once were. People want to connect with other people when buying B2B products.
Learning how to use content marketing effectively, leverage the right tools and support, and maintain consistent relationships with customers will be crucial in the years ahead. As we move into 2022, it seems the companies with the right grasp on the value of content marketing will be the ones who thrive.