What is Social Media Marketing?
Using Social Media Marketing for B2B Connections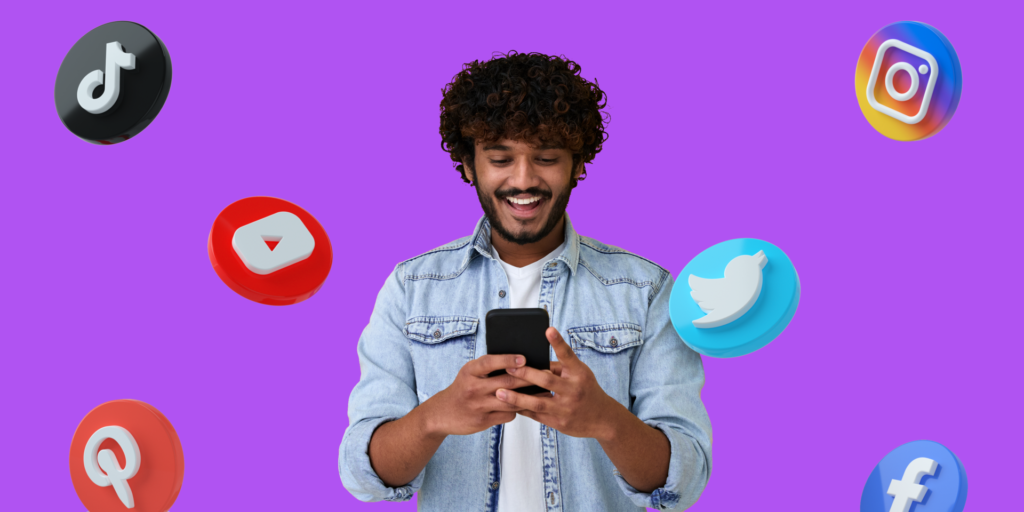 What is social media marketing, what channels should B2B companies be using, and what benefits can this advertising strategy deliver? Those are just some of the questions we encounter regularly at Today Digital. Social media marketing, sometimes referred to as "SMM" has quickly become one of the most powerful promotional tools for today's brands.
Over 80% of consumers say social media significantly impacts their buying decisions, and the influence of social channels isn't restricted to B2C industries. B2B buyers also rely on social media to conduct market research and explore potential purchasing options.
Since "social media" first burst into the spotlight almost 20 years ago, the concept has experienced phenomenal growth. Around 4.6 billion social media users were online at the beginning of 2022 – that's nearly 60% of the world's population. Plus, 70% of B2B marketers using social media in their strategies say they've increased sales and improved their visibility online.
What are the Best B2B Social Media Marketing Channels?
The key to any successful social media marketing strategy is knowing which channels to leverage. Most companies don't have the time (or the need) to post content across every available social channel. Instead, they should be focusing their attention on the platforms most likely to generate measurable results, from traffic, to conversions.
At Today Digital, we've found industry professionals and technology buyers typically communicate and consume content on two primary channels: LinkedIn and Twitter. While other platforms like Facebook, Instagram, and even TikTok have their value in some cases, they rarely deliver the same results in the B2B industry as LinkedIn and Twitter.
Here's why we think LinkedIn and Twitter are the best options for B2B marketing.
LinkedIn Social Media Marketing
LinkedIn is the ultimate B2B network. It's where people search for job opportunities, learn from their peers, and connect with industry partners. LinkedIn is home to over 830 million professional members from around the world, many of whom are decision-makers in their companies.
With LinkedIn, companies can:
Create business and personal profiles: Companies can create personal profiles for professionals looking to generate thought leadership in their industry, while also creating profiles for their larger company overall.
Leverage organic and paid posts: Organic posts are an excellent way to demonstrate authority in a specific industry, while paid posts can generate increased attention and sale opportunities. Most companies benefit from a combination of both.
Experiment with different types of content: On LinkedIn, companies can create polls, videos, long-form, and short-form content to connect with their target audience. Built-in analytics make it easier to determine which content types generate the most attention. Visual content is particularly valuable for drawing attention to posts.
Develop communities: Not only does LinkedIn provide companies with an opportunity to join groups and create groups related to their industry, but it's also possible to host live virtual events for lead generation and nurturing campaigns.
LinkedIn's algorithm determines a user's interests based on the groups, pages, hashtags, and people they follow. Companies leveraging LinkedIn for social media marketing need to not only imbue their content with the right hashtags and keywords, but they also need to learn when to post at the optimal time for their audience, and discover what kind of content makes the right impact.
Twitter Social Media Marketing
In the B2B world, Twitter is the ultimate place to search for updates, news, and information about a company or organization. The Twitter algorithm focuses on curating content based on a user's activity on the platform. The more users like tweets and follow certain accounts, the more the algorithm can determine what kind of content the user might want to see.
With Twitter Social Media marketing, companies can:
Drive engagement: Twitter is excellent for driving audience engagement with polls, videos, and question-based content. It's a great way to get people talking about a brand. There are even Twitter spaces available for community interactions.
Promote posts: Promoting posts on Twitter makes it easier for business leaders to drive eyes to specific pieces of content, promoting a new news announcement, product, or company achievement. User scan even target specific audiences.
Create rapid-fire content: Twitter is great for quick, rapid-fire content, designed to inform and educate customers. Companies don't necessarily need to invest a lot of time into creating Twitter posts, provided they ensure they're delivering value to their audience.
To drive effective social media marketing results on Twitter, companies need to leverage hashtags, post at the time their audience is most likely to be online, and curate attention for both personal, and company pages. Notably, images on Twitter are particularly powerful, as they increase a post's chance of being "retweeted" or shared.
Optimizing B2B Social Media Marketing
On both Twitter and LinkedIn, the best way to get the right results from a social media marketing campaign, is to learn from each post. Both of these platforms provide insights into metrics like engagement, click-through rate, and impressions. Monitoring these metrics is a great way to understand what kind of content is most appealing to a specific audience.
It's also worth thinking of ways to cross-promote a business across multiple B2B platforms where possible. Not only can companies use Twitter and LinkedIn together, but they can also consider other powerful B2B platforms like:
Reddit: A powerful community platform, great for connecting with customers
Facebook: The world's biggest social platform, ideal for reaching a wide audience
TikTok: The optimal social media platform for showcasing brand personality
Instagram: A valuable visual platform, great for showcasing behind-the-scenes business insights.
Summary
In the B2B world, social media gives brands an opportunity to connect with their audiences on a deeper level, invest in meaningful interactions, and even collect valuable data. After all, every social channel offers its own behind-the-scenes look at customer comments, perspectives, and sentiment.
While social media can deliver exceptional opportunities to business leaders, it's not without its challenges. To succeed in "social media marketing", companies need to figure out which channels they should be present on, and which marketing methods they should be using.
Remember, less is more. Companies should always focus on the channels that make the most sense for their target audience.
LinkedIn and Twitter are great places to start for organizations in the B2B landscape.