Essential Insights from the Global Social Media Trends Report
6 Key Insights to Take Away from this Year's Research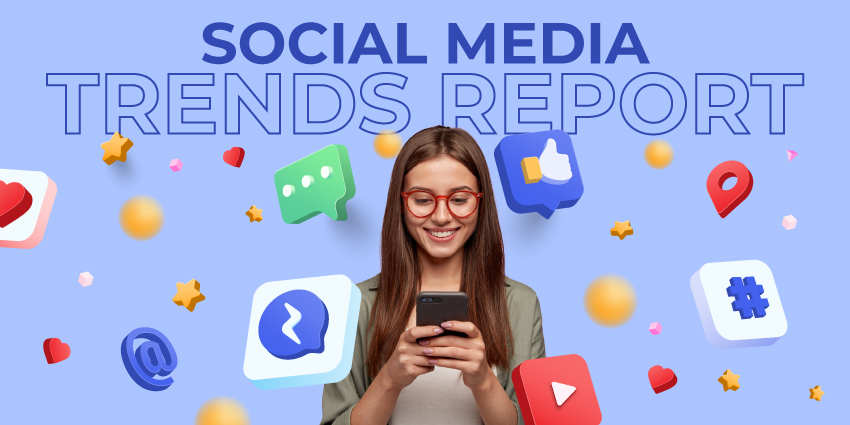 Social media isn't just a worldwide digital phenomenon, it's also one of the most powerful tools companies have to connect with, nurture, and engage leads. More than 4.89 billion people are active on at least one social channel today, and the way we use each platform has evolved.
Social media platforms are now powerful search engines, sales tools, shopping networks, and even channels for customer service. This means companies looking to increase sales and drive opportunities need to ensure they're investing the right amount of effort into their social strategies.
Recently, HubSpot and Brandwatch worked together to produce the latest "Global Social Media Trends Report" for 2023, offering useful insights from over 1200+ social marketers worldwide. Here are some of the key insights worth learning from in this report.
1.   Community Building is Now Crucial
Social media thrives on relationships. It's not just a platform where companies can share advertisements and promotions. It's a mode of communication, offering brands a way to connect with buyers, and gather insights throughout the purchasing cycle. As the digital world evolves, the demand for "community experiences" on social channels is growing.
9 in 10 social marketers say community building will be essential to success in 2023. Additionally, 1 in 5 social media users are now participating in online communities.
To adapt to this trend, companies will need to first invest time in defining where they should build their communities. While Instagram promises the highest potential for audience growth (23%) and ROI (25%) in 2023, it won't be the right platform for every business. Understanding your audience, and the kind of content they need throughout the purchasing journey, will help you to define which channels you should be using to inform, educate, entertain, and engage your community.
2.   Social Media Transforms Sales and Customer Experience
As mentioned above, the evolution of social platforms, and the rise of new features across virtually every channel, has transformed how people interact with these landscapes. Social media isn't just a place where people communicate with friends or share content anymore. It's a thriving landscape for sales and customer service too.
Currently, 47% of social media marketers say their companies sell products directly within social apps. Plus, 35% of Gen Zers say they use social media to keep up with the latest product releases. Introducing social media into the sales process could be an excellent way for technology companies to increase app downloads, software sales, and hardware revenue.
Thanks to extended reality, business leaders can even help customers visualize and try products before buying them. This could be essential in a time when customers say they're concerned about the legitimacy of brands and the quality of products being sold on social media.
Additionally, social media is also becoming an avenue for fast-paced customer service. 76% of social media marketers say their company offers support on social channels. With the rise of chatbot and automated conversational AI tools, companies now have more opportunities to interact with customers through social media in their own time, through personalized messaging. There's even an option to proactively reach out to customers with unique product recommendations.
3.   SEO Enters the Social Landscape
According to the Global report, TikTok surpassed Google as the primary source of information among Gen Z customers in the last year. 87% of social media marketers now think customers will be searching for brands on social media more than they do on search engines.
This indicates companies will need to invest additional time and resources into optimizing the content they produce for social media, and tailoring pieces to customer intent. Brandwatch consumer data found around 30 million unique social media authors were mentioning things like "reviews" and "alternatives" when searching for advice on what to buy online.
With around 55% of customers now using social media to find people, interesting content, brands, ideas, inspiration, and products, there are plenty of opportunities for growth. Companies looking to optimize their presence this year will need to think about adding keywords and relevant hashtags to posts to increase visibility, and making their username as easy as possible to find.
4.   The Creator Economy Continues to Evolve
Influencer marketing has long had a significant impact on the social media marketing world. By 2022, the influencer marketing was already a $16.4 billion industry. However, trying to connect with world-renowned celebrities for campaigns may soon be a thing of the past.
The Global Social Media Trends report found marketers are now seeing more value in niche content creators and micro influencers. 8 in 10 companies are now working with smaller creators, with only 1 in ten working alongside major celebrities with more than 1 million followers.
There's even the potential to experiment with non-human influencers in today's evolving world. 1 in 4 social media users now follow virtual influencers on a social platform. The key to success in this world is finding the right people to partner with, based not just on target audience, but your company's values and missions. Genuine, authentic, and emotionally-driven content will thrive in the influencer landscape going forward.
5.   Short-form Video and Relatable Content Thrives
Speaking of relatable content, HubSpot and Brandwatch found funny, trendy, and emotional content is driving the best ROI for companies right now. Adapting content strategies to the latest industry trends, paying attention to customer pain points, and responding to customer intent will help brands to nurture and engage followers in a competitive world.
Relatable posts, such as behind-the-scenes content, memes, and even educational content and news stories will thrive in the years ahead. Interactive content, such as AR/VR content, polls, and games, also have the potential to drive meaningful engagement and measurable ROI results.
Another type of content driving significant outcomes for businesses in 2023, is short-form video. Reels, TikToks, and YouTube shorts are still delivering exceptional results for brand awareness and engagement strategies.
Consider using short-form videos to teach customers about new products and services, guide them through the purchasing cycle, and answer questions they might have about solutions.
6.   Content Strategies Need to Adapt
Finally, HubSpot and Brandwatch noted that simply repurposing the same content across multiple social channels will no longer work in 2023. Customers are looking for more unique, valuable, and authentic content, tailored to the unique tone, aesthetics, and demographics of each platform.
Fortunately, there are various ways companies can enhance their content strategy for the years ahead. Encouraging user-generated content is an excellent way to fill the content calendar with valuable, relatable, and credible content. Additionally, AI solutions are emerging to help inspire and guide companies through the content creation process.
Tools like ChatGPT, Dall-E, and Canva's Magic Write are rapidly joining the content marketing toolkit. Implementing generative AI resources into social media marketing strategies gives companies an opportunity to accelerate content production strategies, transform content from one medium to another, and even automate content creation tasks.
Learning from the Latest Trends
Social media marketing, like the rest of the digital marketing landscape, is evolving at a break-neck speed. Customer preferences are changing, platforms are offering companies more ways to connect with audiences throughout the buying cycle, and innovative tools are influencing the creative process.
While adapting to the latest social media marketing trends in 2023 may take some time and focus, it could pay significant dividends. The right strategies will help companies tackle major challenges such as creating engaging content, generating leads, and retaining followers this year.
However, companies will need to remain agile to stay one step ahead of the competition. Gathering first-party data from audiences will help companies to adhere to the latest trends in the landscape in a way that generates real, valuable results.