Building Presence: The Impact of Events and Thought Leadership
Connecting with Consumers in an Evolving Landscape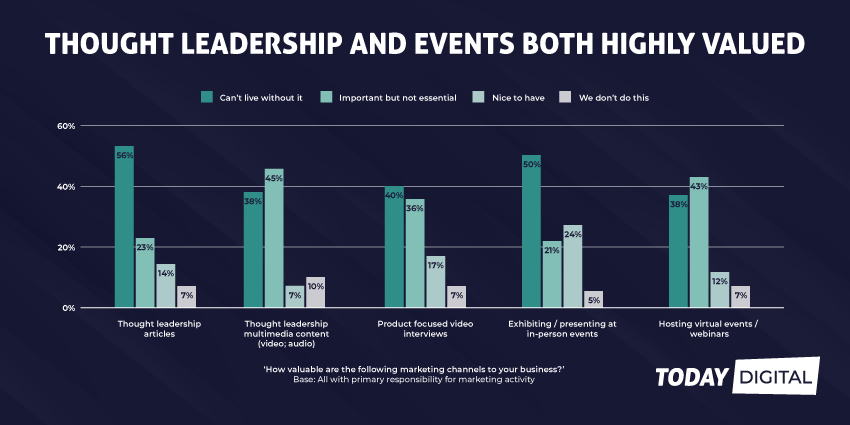 Recently, we've been sharing our insights into the emerging trends and priorities of the technology marketing landscape, based on our own proprietary audience and customer research. We've made some important discoveries, finding that although business budgets are deteriorating in the face of an uncertain economy, companies are still heavily focused on using the right marketing techniques to generate demand, connect with the right audiences, and drive revenue.
At a time when consumers are making purchasing decisions more cautiously, business leaders need to find a way to build powerful relationships with their target audiences. In the tech sector, this means creating a sense of trust with B2B buyers, through the development of valuable content, delivered through the correct channels and mediums.
While various marketing strategies, from social media to email advertising remain essential in today's world, our latest research highlighted a growing demand for two core solutions: thought leadership content, and hybrid, remote, or in-person events.
The Rising Demand for Thought Leadership Content
Thought leadership content is far from a new concept in the B2B marketing world. For decades, companies have relied on the development of intuitive, insightful articles, videos, and podcasts to demonstrate their authority to customers, and develop brand equity.
According to one study, around 90% of C-level decision makers say thought leadership content influences their opinion of a company. The report also found that 64% of respondents considered thought leadership to be one of the most trustworthy forms of content for assessing the abilities and competency of the businesses they wanted to work with.
In a time when business buyers can't afford to make risky decisions about where they spend their digital transformation dollars, earning the trust and respect of customers is crucial. Today's tech leaders need to be able to consistently show their authority and expertise in their chosen space if they want to convince buyers to invest in their solutions.
Our own research revealed that 94% of respondents consider thought leadership content to be essential to their advertising strategy.
Choosing the Right Medium for Thought Leadership
Finding the right delivery method for thought leadership content may be a challenge for modern brands, with so many options to choose from.
Based on our research, thought leadership articles ranked as the most valuable form of content, with 56% of marketers saying they couldn't live without these resources. This indicates companies may need to consider investing in more intuitive written pieces going forward, even as other multi-media solutions become more popular.
This isn't to say that multi-media thought leadership content doesn't have it's value, however. Around 83% of marketers considered video and audio thought leadership content to be important to their campaigns. The key to success is producing the right type of content.
The same study mentioned above found that while 65% of customers felt thought leadership positively influenced their perception of a company when done correctly, only 17% of decision makers say they content delivered is high-quality.
Today's business buyers want intuitive, informative content they can use to make intelligent business decisions. We've found that product-focused videos, such as reviews, product deep dives, and announcement videos can be particularly useful. Not only do they help to raise brand awareness, but they can act as a valuable way for companies to highlight the features and benefits of their solutions.
Around 76% of our respondents rated product-focused video interviews as either essential, or important to their marketing strategies for 2023. This indicates businesses still need to find immersive ways to highlight the capabilities of their products, even when producing thought leadership articles.
The purpose of thought leadership is to show people an organization is constantly moving forward, researching, investigating, and developing new solutions.
Producing the right variety of articles and multi-media content solutions ensures companies can capture the attention of the right audience, with meaningful, memorable messages, that strengthen brand recognition, awareness, and demand generation strategies.
The Exploding Popularity of Industry Events
Interestingly, our research also revealed that industry events have emerged as a valuable, and often crucial way for businesses to draw attention to their brands and products in the modern world. 83% of our respondents said that hosting events has become essential to their overall marketing strategy in the last year, and only 12% of respondents said they don't utilize events at all.
After the pandemic forced countless companies to cancel major industry conferences and expos, the demand for event experiences has increased significantly. Around 60% of business leaders now say they believe events are their most essential marketing channel for achieving company goals.
Events serve a range of purposes in the tech marketing landscape. They provide companies with a platform through which they can demonstrate innovation and thought leadership. However, they also pave the way for the development of deeper relationships with critical customers and clients.
The power events have to strengthen connections between people is evident in the growing need for in-person experiences this year. 50% of our survey participants said either hosting, or presenting at in-person events was essential to their marketing strategy. Meeting existing customers and partners in-person paves the way for greater loyalty and advocacy for technology brands.
However, there's still scope for virtual and hybrid events to deliver phenomenal results too. Around 70% of events in 2022 were hybrid experiences, offering access to both online content and in-person interactions. For companies unable to launch their own in-person e`vent, virtual events could even offer a low-cost, and high-reward way to connect with customers on a deeper level.
Webinars and educational events in particular seem to drive phenomenal results for brands, with 81% of our respondents say they consider these tools to be useful to their marketing campaigns.
Making a Connection in 2023
Ultimately, our findings from this survey indicate that branded content capable of showcasing thought leadership, authority, and innovation remains essential in today's marketing world. Companies need to consistently look for ways to earn the trust and loyalty of their customers as B2B budgets dwindle, and content is crucial to this process.
From thought leadership articles, to multimedia content experiences like video reviews, and even powerful in-person and hybrid events, companies need to focus on creating content that reaches customers on an emotional level.