Onalytica Names UC Today Number 1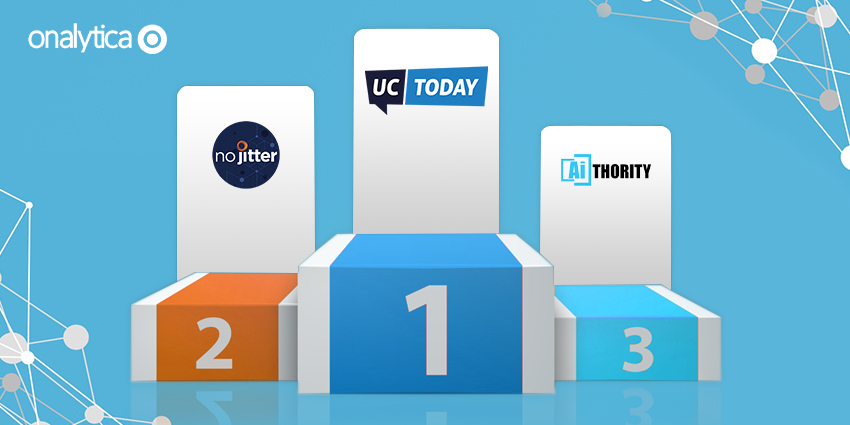 At UC Today, we're all about delivering the best. We believe in going above and beyond to source the most exciting reports, tell the most engaging stories, and deliver insightful content. Our passion for the UC industry pushes to achieve more, go further, and delight our fans. 
I was overwhelmed this week to discover that our work in this regard has been recognised, and commended by award-winning influencer marketing platform, Onalytica. The new "Who's Who in Unified Communications" report issued by the company named UC Today number 1 publication and resource for Unified Communication.  
To be recognised alongside leaders like No Jitter, TMC, and CIO online is a true honour.  
It's Been an Amazing Journey
When I started UC Today just over 4 years ago, I had no idea we would come this far or achieve so much. I'd never created news before when I first began exploring the idea of something like UC Today. I had no experience in media and advertising, no journalism experience. All I had was my passion for online marketing and the business communications industry.  
I could see the sector evolving, and part of me knew that more amazing things were yet to come. The conventional PBX was gradually dying out, and true unified communications was beginning to show its potential. Now, four years later, we've covered countless amazing brand stories, discussed industry innovations, and witnessed the evolution of an entire industry.  
Between the start of UC Today, and now, we've posted over 6000 blogs and news stories, launched over 500 videos, and recruited a team of 30 talented, dedicated people.  
This recognition from Onalytica has really brought into perspective how far we've come, and what we've accomplished so far.  
Gaining Recognition in UC
Here at UC Today, we're not used to being recognised by other market leaders and brands. Generally, we do the recognising ourselves, reporting news stories, and creating thoughtful pieces to highlight the accomplishments of UC brands. It's our duty, and pleasure, to highlight and showcase the companies that have sparked the revolution of the communication environment.  
To get this recognition from Onalytica feels incredible, particularly when there are so many other amazing people listed on the report. I was shocked to discover myself listed alongside the likes of Dave Michels, Jon Arnold, Blair Pleasant and Irwin Lazar. 
Many of these impressive people have been in the industry for far longer than myself, and I believe they're truly the ones to watch. There are so many fantastic people on the report, all helping to keep us informed about the evolution of the industry and inspire further growth for the sector.  
I'd also like to give a mention to the countless others not mentioned on this report. There are many specialists working behind the scenes that don't get to share the limelight. Many of these thought leaders are making a huge impact, too, shaping the industry with creative thinking, foresight, and the passion to keep the wheels turning in this ever-changing environment.  
We're Thrilled to Be Your UC Resource
Here at UC Today, we couldn't be more excited to receive this recognition from Onalytica, as a testament to the work we've been doing over the last four years. Every one of us in the UC Today team is a dedicated content creator, through and through. We got to this point because we're driven by the support and guidance of our audience.  
Our community, and the businesses we work with help to maintain and feed our passion for technology. Without you, there would be no us. So, thank you for allowing us to be your go-to resource for Unified Communications.  
In honour of this recognition, I want to say a huge well done to the UC Today crew, as well as the wider Today Digital team, who work hard to support the publication every day.  
Now, we're looking forward to our own opportunity to recognise some major UC market leaders. The UC Awards 2021 event is coming up, and we've just launched a dedicated website for the occasion.  
Applications are now open for anyone who wants to get involved. It's time to put the movers and shakers of the UC industry in the spotlight for another year.