Reaching the Right Audience is Key: The Current Priorities of Technology Marketers
Quality Matters as Much as Quantity for Demand Generation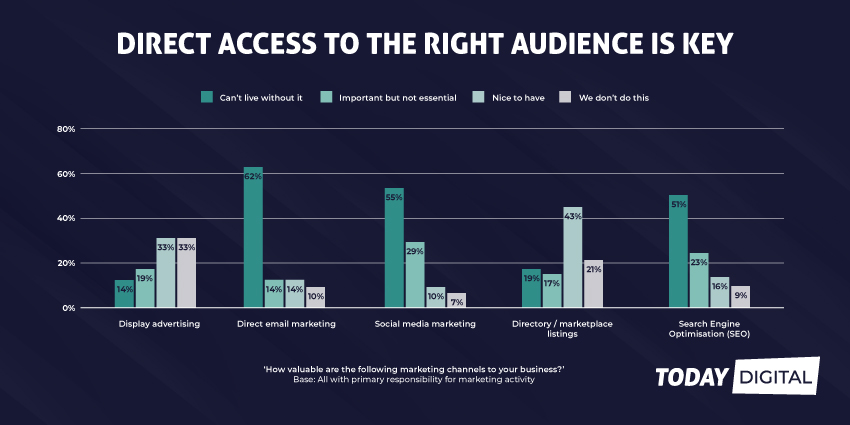 Recently, we've been taking a deep-dive look at the current challenges facing technology marketers in today's landscape, and the priorities teams are setting for the years ahead. So far, our first-party data and analytics have revealed some valuable insights into the evolving space.
We've learned the volatile economy has had a significant impact on the tech marketing sector, creating new issues for business leaders and their teams to overcome. In recent articles, we've drawn attention to the fact that 56% of technology marketers now say their biggest challenge revolves around generating enough leads and demand for clients in a competitive space.
Indeed, while demand for technology is still high, analysts have suggested that many major companies are cutting their tech budgets, thanks to the impact of rising cost of living prices, energy costs, and supply chain issues. However, it's not just a high quantity of leads that tech marketers need to focus on to deliver true value to companies this year.
Our recent research suggests finding the right quality of leads, in the form of high-intent, engaged audiences, is also crucial to success. With budgets and revenue in the tech industry facing increasing strain, marketers need to ensure they're capturing demand from the right channels.
Where Tech Marketers are Searching for Leads in 2023
Cultivating the right kind of demand has never been more important for technology marketers. According to our recent reports, 47% of experts believe improving lead quality is a major challenge for their companies in 2023. This aligns with the fact that 41% of marketers now say they need to consistently demonstrate clear ROI from their marketing campaigns to clients.
Generating the right demand, by focusing on connecting with high-intent customers across the most effective channels, is one of the best ways for marketers to prove their value to tech companies in this problematic landscape. After all, high-quality, qualified leads are the buyers who have the biggest measurable impact on any company's bottom line, revenue, and lifetime value scores.
The question for today's companies and marketing teams, is where they can find the quality and quantity of leads, they're looking for. According to our reports, direct engagement is becoming vital, as companies look for ways to connect with their consumers on an emotional level.
The marketers in our survey listed five core marketing channels as their primary points of focus in 2023, including SEO, directory and marketplace listings, social media marketing, direct email advertising, and display advertising. However, the value assigned to each channel varied greatly.
Overall, social media, email marketing and SEO (Search Engine Optimization) ranked as the top, most important marketing solutions for businesses in 2023. This highlights the consistent and growing demand for a strong online presence among all tech companies.
Email marketing ranked highest of all, with 62% of respondents saying it was a channel they couldn't live without. However, social and SEO followed closely behind, with 55% and 51% of respondents respectively stating these channels were essential to their continued success and growth.
Evolutions in Tech Marketing Strategies
Our findings reveal some interesting evolutions in the technology marketing space. It's little surprise that email marketing remains crucial to tech brands in 2023. After all, email accounts for one of the highest generators of marketing ROI in the landscape. According to some reports, every $1 spent on email generates up to $36 in revenue. This is particularly important at a time when vendors in the tech industry are complaining about a lack of insight into the results of their campaigns.
Additionally, the need for social media as a valuable source of lead and demand generation makes sense, particularly as consumers search for more authentic, credible insights into their favourite brands. Business buyers and everyday customers alike are increasingly utilizing social media to learn about the values of products, and the personalities of brands.
Social video, in particular has been a powerful resource in our toolkit as a technology marketing expert. Video offers a more engaging, informative, and easy-to-consume form of content for many business leaders, with various opportunities to stand out.
Companies can create everything from how-to videos to deliver direct value and insights to customers, to interviews demonstrating thought leadership and credibility. At the same time, search engine optimization remains an incredible resource for companies, helping to boost visibility at a time when need for brand awareness is greater than ever. Only 9% of the companies we interacted with said they don't invest in any SEO strategy at all.
Branded articles, insightful thought-leadership pieces, and well-optimized content across technology news sites, blogs, and social media have rapidly overtaken more traditional forms of advertising, such as display network ads, which no longer drive the right engagement from customers. Indeed, only 14% of our respondents said they rely on display advertising today.
Engaging The Right Audiences on the Right Channels
Ultimately, cultivating a presence on the right platforms, and with the correct marketing methods, has become essential for today's technology brands. To generate the right quality and quantity of leads, business leaders need to ensure they're investing in a variety of content-driven strategies, intended to inform, educate, and convert their customers.
As vendors continue to demand more insights into the ROI they can access from their marketing campaigns, tech marketers must ensure they're investing in strategies that deliver measurable results. At present, SEO, social media marketing, and email appear to be driving the most benefits, offering access to fresh, highly engaged audiences at the right times in the buying journey.
Not only do these channels help companies to connect with and nurture their audiences throughout the expanding customer journey, but they also offer endless opportunities for brand development and growth. Going forward, our data suggests business leaders and marketers in the tech industry will be using these channels to both drive action from customers, and position their companies as a trusted, authoritative source of innovation.