Redefining Work-Life With The Four-Day Work Week
Learn how Today Digital is championing a performance-based culture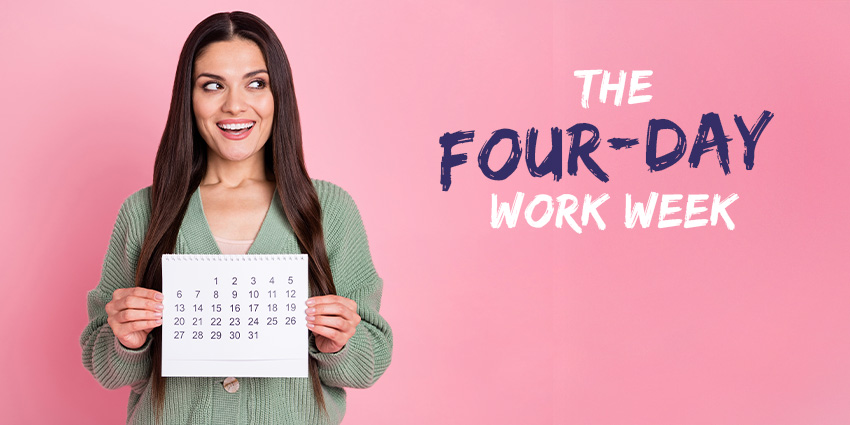 The workplace is changing. Remote working and digital collaboration solutions are increasingly prevailing as major enterprise trends.
The pandemic – which feels like a lifetime ago, but its impact is still felt – made companies scramble to accommodate newfound restrictions.
In turn, the world caught cabin fever. While many enjoyed the work-from-home transition, incorrectly implemented remote working considerations led to some employees suffering.
Despite immediate benefits, such as increased flexibility and reduced work-based travel, companies at the time required alterations that matched the transformational period.
However, work-from-home benefits led to enterprise adoption of remote/hybrid workplace methodologies well beyond the pandemic's conclusion.
New Expectations, New Challenges, and Better Outcomes
The workplace changed overnight thanks to remote operations and next-level digital communications.
Despite many benefits, the remote transformation boom is not without its challenges.
For example, due to spending and thin talent pools, recruitment is tough, but firms can overcome these challenges with the correct approach.
Today Digital, however, has always championed remote working to stimulate growth and performance – at all levels of employment.
But what is next after going remote or hybrid? Here at Today Digital, the next logical step was further optimisation with a four-day workweek.
Paving the Way for a Four Day Work Week
The tech market entered a period of uncertainty leading into the back end of 2022, with market crashes and widespread layoffs.
However, Today Digital was already deep into its four-day workweek journey by this point – and there was no turning back!
Today Digital took the initiative to champion and lead in alternative workplace methodologies, which significantly improve outcomes and employee satisfaction.
Rob Scott, CEO of Today Digital commented,
"We wanted to stay committed to it because we saw an opportunity to deliver more employee value and an improved employee experience."
Research by Cambridge University surveyed 23 four-day workweek-ready firms.
The study found that 71 percent of employees self-reported less burnout, 39 percent of employees reported lower stress, firms saw a 65 percent reduction in sick days, the number of staff leaving a company fell by 57 percent, and company revenues even increased by a marginal 1.4 percent.
Lean, Mean, Four Day Work Week Machine
Today Digital is already a very agile business with an international remote workforce delivering incredibly high customer satisfaction while continuing to lead as an authority in many technology markets – from Unified Communications, Customers Experience solutions, and Extended Reality technologies.
Although with the four-day initiative, Today Digital changed from a conventional online publisher to a performance-focused one, which drives business scalability, revenue, and customer satisfaction.
Growing revenues is obviously essential for any business, but for Today Digital, satisfying customers is of the up-most importance.
The four-day workweek allows for this, and many Silicon Valley firms agree. Hundreds of leading tech firms are trailing or adopting four-day workweeks.
The Transformational Journey
The four-day workweek was a worthwhile challenge. However, for Today Digital, the process came together with relative ease.
A notable concern is reduced work hours. If a workforce collectively takes off 20 percent of the workweek, they shouldn't just stop doing 20 percent of work – this is not good business sense.
However, the fix is increasing productivity by 20 percent, and Today Digital achieved this by transitioning into a performance-based business.
Scott continued,
"Today Digital's journey, leading up to the back end of 2022, was tough. Tech markets were a bit uncertain. However, all businesses need technology to survive and thrive so we came into 2023 in a good position. Once we embraced our new culture and approach was like the stars aligned, and the business operated better than ever."
Today Digital now operates with a very high-performing team, and quality standards are higher than ever.
You Can do it Too!
Today Digital is doing it, so you can do it too! The four-day workweek is proving a success.
The transition so far is relatively painless – almost pain-free!
Today Digital put a lot of time and effort into planning the four-day workweek. With the correct people, processes, and technology in place to support July's transition period.
To successfully pull it off, Today Digital optimised every process, every meeting, and every huddle.
These employee-facing interactions are crucial in driving people forward and getting the most efficiency out of employees to secure a four-day future.
But it doesn't lean solely on business leaders. The wider workforce plays a vital role also.
Senior team members can support a workforce; however, trust is key.
As a work-from-home business, Today Digital champions trust in its workforce to meet targets and cooperate with customers autonomously.
Like remote working situations, a four-day workweek also relies on trust to get work done.
Because if trust doesn't prevail, seniors must micro-manage, which does not work.
Driving Inspiration Across Workplace Culture  
With careful planning and execution, firms can adopt a four-day workweek without much disruption.
If your workplace culture is suitable and all employees push in the same direction, the transition is relatively pain-free.
The Today Digital team does not foresee any hurdles; instead, we anticipate even more growth as workers remain happy and satisfied.
Good well-being can drive inspiration and growth across the workforce. Employees who are happy will likely stay longer and commit themselves to a collective workplace vision.
On the other hand, a four-day workweek is not for every business, so correctly identifying if the model is applicable will help an employer avoid failure.
Today Digital is championing four-day workweeks as a gold standard that some firms can follow to optimise operations while keeping employees and customers happy.