The UC Awards Are Back for 2021
Will you walk away with a coveted award?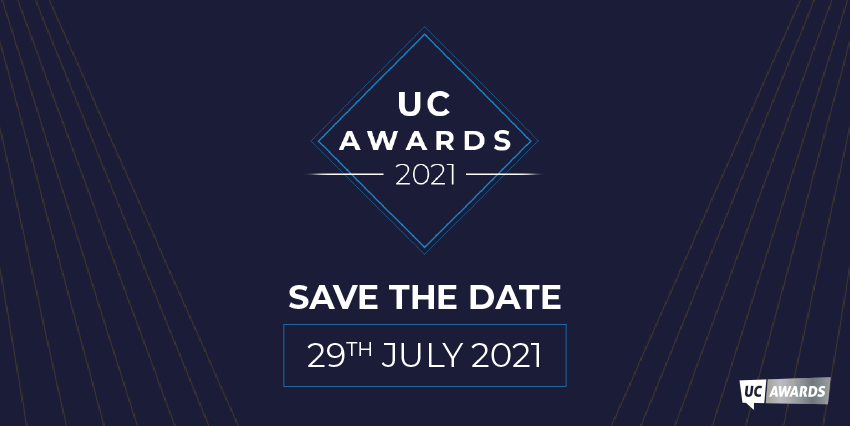 The UC Awards are back once again, bigger and better than ever. 
Since 2018, we've been running our digital celebration to commend and highlight some of the most incredible UC and Collaboration vendors in the world. 
We're thrilled to be once again asking companies like yours to get involved and submit your applications to win the awards most-suited to your solutions.  
What's more, we're proud to say that we have a sensational guest co-host for 2021. Our chosen co-host is an award-winning presenter, journalist, and tech expert, as well as a published author! 
Are You Our Next Winner?
For 2021, there are more opportunities to win than ever!  
Last year, our winners included market leaders like Eric Yuan, Vlad Shmunis, and CK Kannan. This year, we're hoping to attract even more innovators to apply for old and new categories alike. Alongside our standard awards such as "Best CPaaS platform" and "Best UCaaS provider," we've also updated our ceremony this year to some special 2021 categories.  
We'll be looking at things like the "Best use of AI" and the "Best Work from Home product" to celebrate the changing communication landscape.  
As always, we're not just celebrating companies but pioneering people too. We're keen to see who will make the cut as our UC leader and Collaboration leader of the year!  
Aside from new categories, 2021's Award ceremony will also come with a new dedicated website, an updated attendee experience, improved benefits for every entrant, and so much more! Now's the time to mark your calendar if you want to get involved! 
Celebrating the UC Industry 
Experts
Every year, our panel of judges evaluate submissions from some of the most incredible companies in the world. Applications are judged based on the ability of the solution to improve experience, their innovative elements, and the company's ability to execute solutions. This year's judges are: 
Rob Scott, Publisher – UC Today  
Irwin Lazar, President & Principal Analyst – Metrigy  
Jon Arnold, Principal – J Arnold & Associates  
Kevin Kieller, Co-Founder – EnableUC  
Zeus Kerravala, Founder & Principal Analyst – ZK Research  
Blair Pleasant, President & Principal Analyst – COMMfusion  
Melissa Swartz, Founder – Swartz Consulting  
Tim Banting, Practice Leader & Senior Principal Analyst – Omdia  
Stephanie Watson, General Manager – MZA  
As usual, our event is 100% digital, so you don't need to worry about taking time out of your schedule to get involved. The event will come to you on your screen, and applications open from the 7th May, to close on the 14th of June, so make sure you're ready! 
We can't wait for another amazing year of celebrating the biggest and best brands in the Unified Communication space.