Today's Tech Marketers Must Show Demonstrable ROI
Demonstrating ROI is Now a Top Priority for Tech Marketers
Companies in every industry are facing increasing challenges in today's unpredictable landscape. The volatile economy, dissolving levels of customer trust, and budget issues are affecting everyone.
However, the issues affecting the promotional strategies of brands seem particularly prominent in the technology space. Even the world's biggest tech brands are now rethinking their marketing strategies, with new priorities. While demand for technology remains high, particularly in a digitally transforming B2B landscape, companies are struggling to retain high profits.
Two major analyst firms even cut their technology spending predictions significantly this year, after many companies began tightening their purse strings. As a result, many major companies are focusing on accomplishing more with less when it comes to investing in marketing.
Tech marketers now need to prove they can quickly and efficiently assist businesses in achieving new marketing goals, while constantly demonstrating a clear return on investment.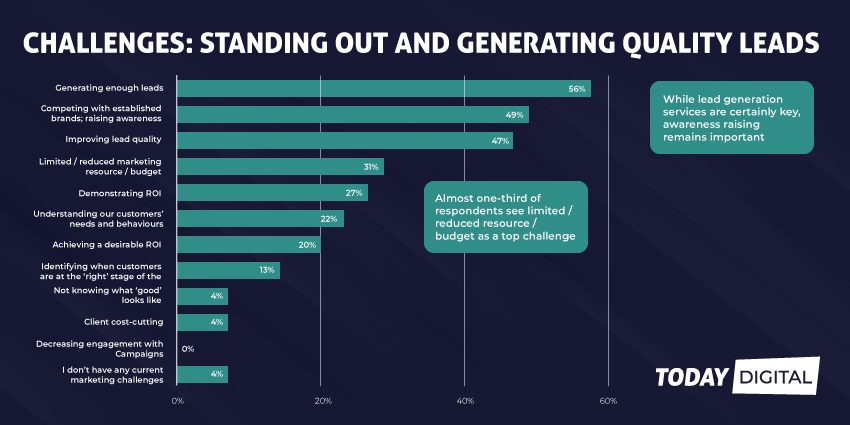 The Challenges Tech Marketers Need to Solve
The challenges faced by marketing teams have evolved significantly in the last couple of years.
With the cost of living and energy prices consistently rising in the last few years, companies and consumers alike are becoming more cautious about how they spend their money. For tech companies, this means there's a growing focus on not just generating brand awareness, and promoting their solutions, but convincing the right prospects to enter the lead funnel.
According to our latest research, 56% of technology marketers say they biggest challenge they face right now is generating enough leads for their clients. Crucially however, it's not just the quantity of leads that matters to today's tech landscape, but the quality too. Around 47% of our respondents said improving lead quality remains a major challenge in 2023.
To make matters worse, tech marketers are struggling to drive results in an environment where companies have less to spend on promotional tactics.
Gartner reported that during the pandemic, marketing budgets plummeted to 6.4% of company revenue for many brands. While many technology companies may have maintained their promotional budgets during the initial years of the pandemic, they're starting to make significant cuts now that demand has begun to slow down.
With low budgets to work with, 49% of tech marketers say they're struggling to ensure the companies they promote can compete with established brands, using techniques for building brand awareness and recognition. Today's tech marketing teams need to be more creative at coming up with low-cost, high-impact ways to generate demand.
Demonstrating ROI: Tech Marketers Must Prove Their Worth
One major trend we've seen in our research, is a growing demand for tech marketers to demonstrate the value of their advertising campaigns.
As budgets continue to diminish, 41% of the marketers in our recent report said they need to consistently demonstrate ROI (Return on investment) to tech clients. Additionally, around 36% of marketers said they believe showing detailed, robust ROI reporting is crucial.
These findings resonate with surveys conducted by HubSpot, which suggest 44% of marketers believe better measurement of ROI is one of their top priorities for the year ahead.
Effectively measuring ROI in the tech marketing landscape is more than just away for promotional teams to demonstrate their own value to clients. It's also essential to ensuring companies can continue to invest in the most powerful strategies for lead and demand generation.
Measuring ROI consistently is crucial in determining which campaigns are delivering clear and tangible benefits to companies. Without the right reporting strategies, tech marketers can't effectively determine whether video marketing leads to more revenue than social media posts, or thought leadership articles are driving increased customer spend.
Being able to consistently track ROI from each campaign ensures tech marketers can effectively understand what's influencing the behaviour of their customers. This also addresses another major challenge discovered in our recent study, as 22% of marketers say they struggle to fully understand the needs and behaviours of their customers. If companies don't know what motivates and inspires customers to buy, they can't produce campaigns that drive results.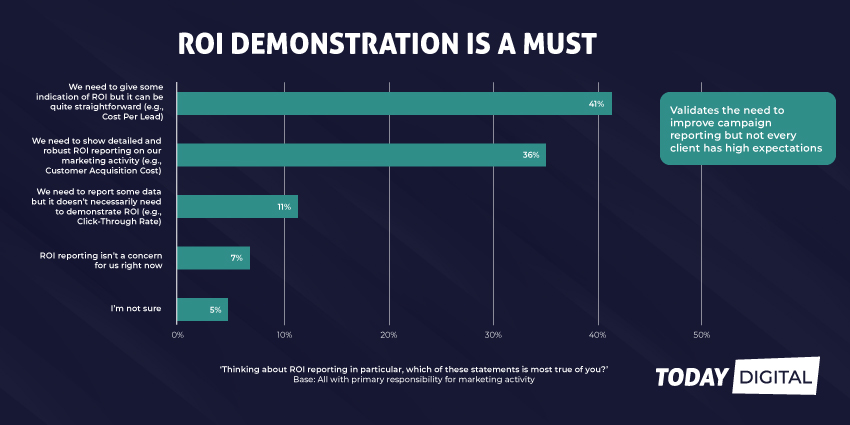 The Importance of Effectively Demonstrating ROI
Data is the lifeblood of a good marketing campaign. It's what ensures companies can invest their time and money into strategies that benefit the bottom line, and bolster the marketing budget. Data is also what helps companies to create more impactful campaigns. For instance, here at Today Digital, our DemandStudio team provides clients with access to exclusive first-party data.
Our first-party psychographic, technographic, and behavioural data acts as a road map, helping vendors to target the right audience, with the correct level of intent at each stage in the buyer journey. Today's evolving tech companies can't afford to waste time on strategies that don't work. They need to be able to constantly and quickly adapt, based on what they learn about their audience.
Demonstrating ROI is how marketers can nudge promotional campaigns in the right direction, providing data-driven guidance on new campaigns and activities. While not every client will require tech marketing teams to provide in-depth statistics and insights, most companies do need to be able to leverage some data to drive their marketing campaigns forward.
Without the right guidance, teams could easily end up wasting already limited marketing budgets on inefficient strategies, allowing competing companies to swoop in and steal demand.
Don't Underestimate the Value of Data
Ultimately, for tech marketers to continue driving results in today's landscape, they need to be ready to implement a data-driven, ROI-focused strategy. Demonstrating ROI consistently ensures tech companies can focus their attention on the campaigns that really count, and achieve their goal of doing more with less.
At Today Digital, we've always focused on the value of taking a data-driven approach to our marketing campaigns. That's why we always provide our clients with in-depth reports and guidance, utilizing engagement data from across multiple channels, to showcase clear ROI results from every campaign. With this data, we believe we can help our clients to target higher-quality leaders, generate more opportunities, and strengthen their brand presence in a competitive landscape.