UC Today Debuts UC Partner Awards
Announcing the UC Partner Awards 2021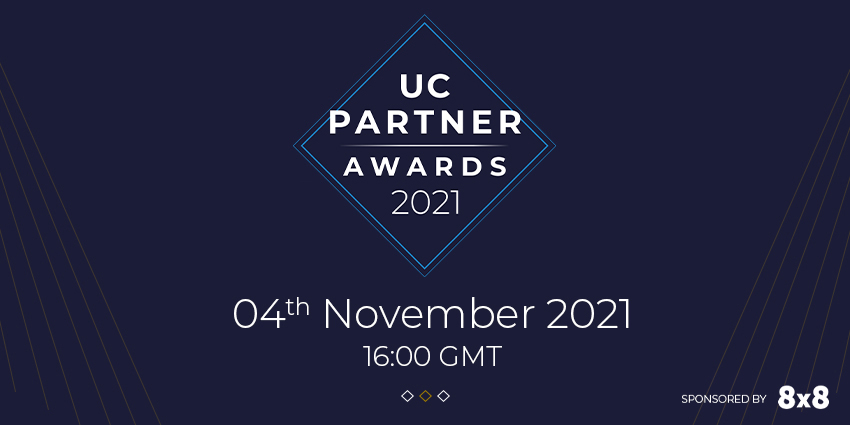 For the first time ever, UC Today is launching a new UC Awards experience designed specifically for the hard-working people of the channel. This exciting event will champion the channel innovators and specialists that are committed to bringing UC and collaboration to the world.
The UC Partner Awards are an action-packed event dedicated to all channel partners and suppliers currently demonstrating their abilities in a competitive marketplace. We believe that today's partners are playing an essential role in the transformation of businesses with communication and collaboration technology for the future. It's time you were rewarded for your efforts.
Don't worry if you're not local! This is a global event that anyone can attend. We've even built a dedicated website to give you the best online experience.
What to Expect from the 2021 UC Partner Awards?
The UC Partner Awards are our channel-focused spin on our highly coveted UC Awards.
Like the UC Awards, this is a fully digital event, created for the modern landscape so that anyone can attend. We'll be on-hand to create brand recognition, industry buzz, and new opportunities for all of our entrants – plus, you get to avoid the travel and costs of your typical UC event.
This 100% online event is easy to get involved with, and perfect for showcasing your channel super-stardom to buyers all around the globe. We're keen to make this international UC Partner Awards experience the best it can be, with sensational content, fantastic engagement opportunities, and a range of ways to celebrate the channel in style.
We'll be celebrating categories like:
Global Channel Partner of the Year
Partner of the Year (UK)
Partner of the Year (USA)
UC Deal of the Year
Best Wholesale UCaaS Provider
Rising Star
Best International SIP service (Global)
UC Channel Solution of the Year (UK)
UC Channel Solution of the Year (USA)
Microsoft Direct Routing Provider of the Year (Global)
Billing Provider of the Year
Best UC Distributor of the Year
Best Partner Programme
Channel Leader of the Year
Our judges will be assessing channel performance based on things like customer ROI achieved, innovation, growth levels, and customer experience. If you do achieve a win for your category, then we'll be working to make sure everyone knows you're the best, with year-round promotion for your incredible brand. This is your chance to get your name out there!
Should We Be Celebrating You?
We're encouraging everyone from the incredible channel community to jump in and get involved with a sensational event experience designed exclusively for the channel. We'll be hosting this new event from our dedicated new website platform www.ucawards.com/uc-partner and applications open on the 2nd of August. Entries will officially close on the 17th of September, and the first shortlist will be announced on the 15th of October, leading up to our full winner announcement in November!
Finish 2021 with a new accolade to show off!
Come and show the world what kind of channel business you are.