What Tech Buyers Want: Insights from Our Latest Survey
Addressing the Challenges Facing Tech Buyers in 2023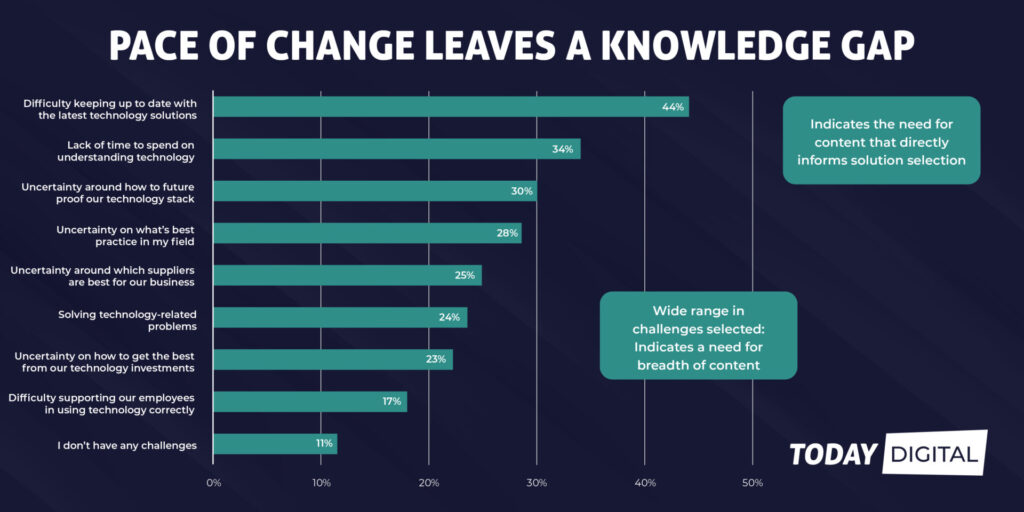 The technology industry has always been a place of rapid innovation, growth, and transformation. Year after year, new discoveries influence not just the products companies produce and the services they offer, but the specific needs and goals of customers too.
To stay profitable in this highly competitive industry, tech leaders need to understand the goals of their target audience, and the challenges they're facing in the landscape. Analysing buyer and visitor intent is one of the best ways to ensure a marketing strategy really hits home with the right audience. In fact, by the end of 2022, 70% of all B2B buyers were already utilizing intent analytics as part of their promotional strategy.
The more companies can learn about their customers, the questions they have, and the roadblocks that prevent them from making a purchase, the more valuable their marketing campaigns can become. In our recent survey, we asked tech buyers to describe the current challenges they face in their purchasing journey, to show us what today's customers really want from marketing content.
The Knowledge Gap: Keeping up with the Industry
By far, the biggest issue cited by our respondents in today's technology landscape, was an inability to keep "up to date" with the latest technology solutions, and they impact they can offer. Innovation in the tech space can be a phenomenal thing, but buyers can only make intelligent decisions on what to purchase, if they understand how new solutions work.
44% of our respondents said they have a hard time keeping up with the market, and another 34% said they simply didn't have enough time to invest in sorting through resources to learn about the latest tools and technologies. This tells us that companies in the current market may need to focus more of their marketing efforts on creating easy-to-understand, useful, and relevant content that can effectively guide audiences to the next stage in their buying journey.
Creating the most useful and insightful content can also help companies to address a number of other challenges facing technology buyers today. For instance, many of our respondents claimed they're struggling with "uncertainty" around issues like how to future-proof their technology stack(30%), and implement best practices when utilizing new tools (28%).
This indicates that business leaders could benefit from producing content that bridges the knowledge gap customers are facing right now. Buyers don't just want to learn about what new technology can do and how it works, they want educational insights which help them to make the best possible purchasing decision for their needs. They're also looking for guidance on how they can optimize their use of new tools, stay ahead of the competition, and generate the best return on their investment.
Building Brand Trust and Solving Key Problems
It's not just technology vendors that are feeling the strain of a complex economy. Business buyers are also dealing with smaller budgets, and fewer resources to invest in digital transformation.
B2B purchasing decisions are becoming more complex, as technology buyers face increased pressure to demonstrate the value of their acquisitions. As such, these customers are increasingly searching for clear evidence they can trust the brands they choose to buy from. Around 25% of our respondents say they're uncertain which suppliers are actually best for their business needs.
This suggests that if technology leaders want to not only convert, but engage and retain customers, they need to demonstrate significant credibility, emotional intelligence, and insight. Effective branding is likely to become a crucial factor for B2B tech companies in the years ahead. Business leaders will need to determine how they can make their brand as visible as possible, by promoting content on the correct channels, and how they can use that brand to build stronger relationships.
One particularly valuable strategy for addressing this issue of "brand uncertainty", involves the creation of helpful content, that supports customers in overcoming real challenges. If customers can see in a company's content that they're committed to helping them solve their problems, they're more likely to trust the services and products offered by that brand.
88% of marketers say they've boosted brand awareness and credibility at the same time, just by generating the right content. Additionally, 80% say they've benefitted from using content to educate their audience, and 78% say their content strategy has helped to generate loyalty. When creating a marketing strategy for the modern world, tech leaders should focus on:
Understanding the key challenges customers face: 24% of our respondents said their main challenge in the tech industry today revolves around solving technology-related problems. Determining the kind of issues your customers are likely to face, when implementing your tools, accessing your services, or even migrating into a new landscape, can help you to create useful content that guides your buyers towards success.
Addressing the full customer journey: Many technology leaders still focus only on raising awareness and generating demand with content. However, producing pieces that help companies to understand how to manage their new tools and utilize them correctly after a purchase can significantly improve retention and loyalty. Around 23% of our respondents said they struggle to get the most out of their tech investments today.
Educating and empowering customers: While difficulty supporting employees in the use of technology ranked low on our list of challenges, it was still an issue for 17% of respondents. Creating content that can supplement training and onboarding strategies, and support teams in leveraging new tools effectively, can ensure companies see a more significant return on their investments, leading to reduced customer churn for tech brands.
Bridging the Gap: Creating Content Buyers Want
Our research tells us that the wide range of challenges facing technology buyers today requires companies in the industry to create a broad range of different types of content, to simplify and streamline the purchasing journey.
While building awareness is still crucial, business leaders in the tech space need to think more about the intent and needs of their target audience when creating a marketing strategy. Using content to generate "customer success" will be a priority for many businesses in the years ahead. Companies that can solve real problems, and generate clear value for customers with their insights will earn more trust, and unlock new opportunities for growth.
Additionally, producing the right types of educational, engaging, and informative content will help technology business leaders to maintain and improve their thought leadership in a crowded space. Insightful content that responds to the needs of your audience will give you the power you need to outshine the growing competition in the tech sector.