XR Awards 2022 has now Launched 🏆
We're celebrating virtual reality, augmented reality, mixed reality and metaverse technology innovation and industry success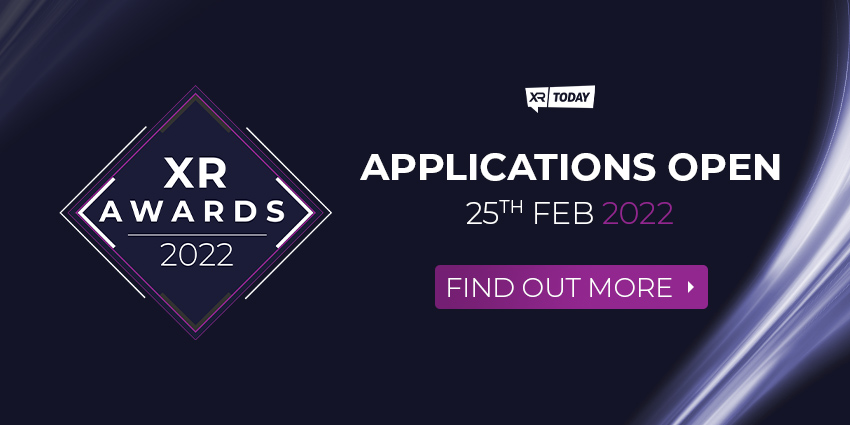 XR Today is delighted to announce the inaugural XR Awards 2022, where we will be celebrating technology innovation in the extended, virtual and augmented reality marketplace. The awards are dedicated to those XR companies producing products and solutions for the business market. 
We are encouraging entries from organisations, enterprises and innovators across many different verticals and industries. Applications open on February 25th, 2022, and close on April 8th.
Our judging panel are looking forward to reading about some of the amazing projects, developments, and successes that vendors in XR have achieved this last 12 months. We will be releasing details on our highly experienced judges shortly. 
The list of categories for the XR Awards 2022 are as follows: 
Most Innovative Product 
Best Virtual Reality Solution 
Best Augmented Reality Solution 
Best Mixed Reality Solution 
Best Metaverse Solution 
Best Vertical Solution of the Year 
Best Healthcare Solution 
Best Education & Training Solution  
Best Gaming Solution 
Best Industrial Solution 
Best Construction Solution 
Best Automotive Solution 
Best Collaboration Solution 
Best Retail Solution 
Ones to Watch 
XR Leader of the Year 
Once judging is completed, we will announce the shortlist of finalists on Friday 6th May and the XR Awards 2022 ceremony will take place on May 26th at 15:00 GMT. 
The free, live-streamed event will be hosted by David Dungay, Editor-in-Chief, XR Today before being made available to watch on-demand. 
For more information about how to get involved with the XR Awards 2022, to see the judging criteria, and to download the application form please visit our dedicated awards website.
Don't forget to follow our social media pages on Twitter & LinkedIn with the event hashtag #XRAwards22. We hope to see you there and are excited to help us recognise this fantastic industry!  
Interested in submitting an application? Download our Media Kit, and start preparing your entries now.