The Evolving Priorities of Tech Marketing Leaders in 2023
Raising Awareness is Still Crucial for Tech Marketing Leaders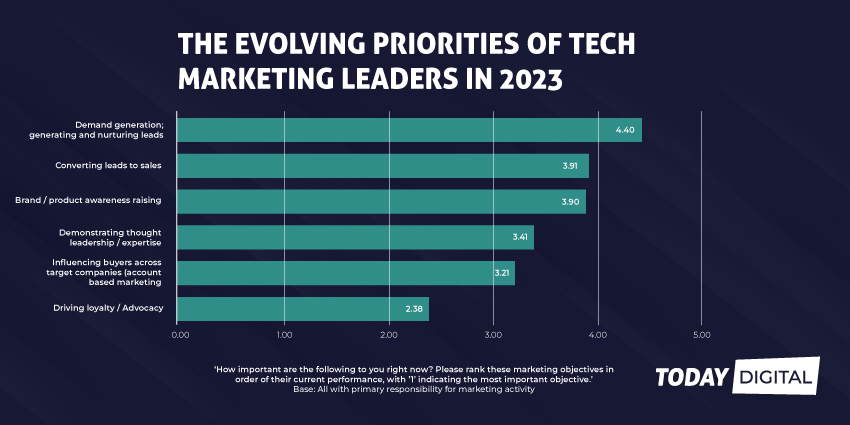 Recently, we've been sharing our latest research insights on the evolving tech landscape, and how it's influencing the marketing and branding strategies of growing companies.
In recent years, the technology has moved from a state of rapid growth and development, into a somewhat unpredictable and challenging period. Major issues with supply chains, budget cuts, and economic concerns have influenced the strategies of tech buyers, pushing most to be more cautious about how and when they spend their money.
The turmoil in the industry is forcing many companies to rethink every aspect of their growth strategies, including the approach they take to marketing and promotion. Businesses are being forced to find ways of doing more with less, and many have even begun to consider cutting down on marketing strategies. However, our research shows not only is consistent advertising important, but it may be more valuable to businesses than ever before.
The Marketing Priorities for Tech Companies
Investing in successful marketing and branding strategies is crucial for companies at a time when consumers are becoming more budget conscious. Today's tech buyers need to see evidence the companies they're working with are trustworthy, stable, and innovative.
The right marketing strategy ensures organizations can continue to build critical relationships with both existing and future customers. It's also worth noting that although the tech landscape is experiencing some challenges right now, growth is still happening at an accelerated rate. New companies and vendors are entering the landscape all the time. Failing to invest in the right marketing strategies now could mean losing out on leads to new vendors.
So, where is the focus for tech businesses right now?
Primarily, many companies are focusing mid to low funnel activity, looking for ways to convert interested buyers and retain long-term customers. However, there are some other key trends emerging in the tech marketing space, such as:
1.      Continued focus on brand awareness
On a scale of 1 to 5, tech companies rated brand and product awareness at an importance of 3.9. This indicates tech organizations are still working hard to make their products and solutions stand out in a cluttered market.
At Today Digital, many of the brands we work with are currently in the process of developing new products, and building their brands – looking for ways to stand out from the competition. As the marketplace continues to evolve, we believe demand generation will be crucial to helping businesses thrive. It will be essential for brands to look beyond just the basics of "demand capture".
2.      Brand development is crucial
As the marketplace becomes more cluttered, and consumers continue to struggle with their purchasing decisions, branding has grown increasingly essential. Businesses need to focus on earning the trust of their target audience.
We recognized this growing demand in 2022, which is what prompted the Today Digital Team to launch our DemandStudio solution. This offers companies access to a comprehensive suite of campaign types, including lead generation strategies, which leverage first-party data, to ensure our clients can create messages that resonate with their target audience.
3.      Product promotion may be more valuable than thought leadership
Just below brand and product awareness on the marketing value scale is the need to demonstrate thought leadership and expertise. Although companies in the technology landscape still recognize the value of authoritative content, their focus right now may be directed towards making their products and services stand out.
Thought leadership content still has a part to play in the marketing mix for growing technology vendors, but it's not quite as crucial as ensuring companies can generate demand for their products and solutions. As such, our marketing team is focusing on providing companies with the initial attention they need to convert customers, as well as offering ways to boost authority.
4.      Account-based marketing falls behind
Account-based marketing strategies were ranked relatively low on our scale of important strategies for technology companies in the current environment. In the past, these campaigns have gained significant attention for their ability to tailor content to specific market segments and groups.
However, many organizations seem to rate these campaigns at a medium level of importance today, which may indicate a transition away from more personalized content. We still notice some of the less mature companies in our client base are taking advantage of ABM campaigns however. This could mean that building influence across specific target sectors is more crucial to growing brands, rather than those already established in the industry.
5.      Driving loyalty is the least pressing concern among marketing teams
The desire to drive loyalty and advocacy scored the lowest out of any priorities on our list for technology marketing teams, with a rating of 2.38 out of 5. Companies appear to be far more focused on generating fresh demand and converting new clients than preserving relationships with existing customers. This could have something to do with the expanding technology industry, and the fact that buyer needs are changing, requiring organizations to rethink their target market.
However, we believe, despite these results, the need to consistently preserve customer relationships will remain high in the years ahead. While companies might be more focused on capturing leads than retaining them today, in the long-term, they'll need to ensure they're keeping their most valuable clients close.
The Rising Need for Demand Generation
Ultimately, our research shows that the main priorities for tech companies in the marketing space today revolve around the core areas of generating demand, converting leads into sales, and raising awareness for products and brand solutions.
In today's complex marketplace, ROI and lead value remains essential to preserving success. In order to effectively survive and thrive in today's market, tech marketing teams need to focus on ensuring they're getting the best value from their media partners. Equally, media platforms need to prioritize offering demonstratable valuable when running campaigns.
At Today Digital, we're taking these insights in our stride in the creation of ever-more valuable services and solutions for our technology clients. Contact us today to learn how we can help you achieve your marketing goals in the year ahead.