Uncertainty over whether pandemic-fuelled growth in B2B tech will continue
As the demand for hybrid work tech soars, what's in store for tech vendors in 2023?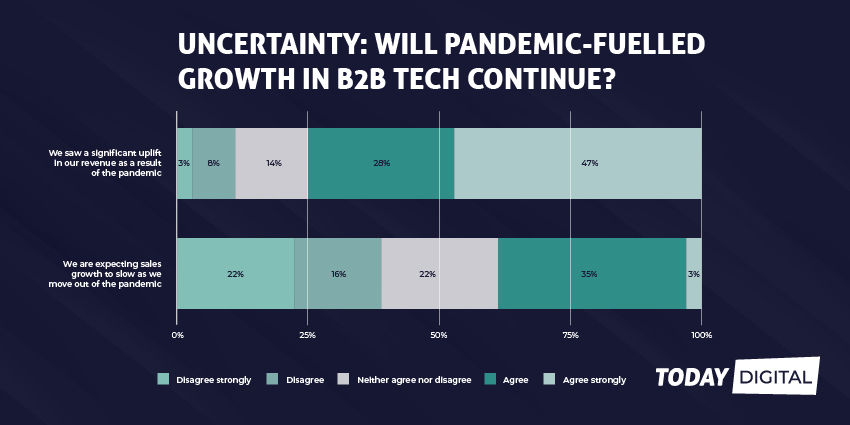 The last couple of years has been unpredictable at best. The global pandemic brought countless industries to their knees as a result of lockdowns and social distancing. Businesses closed their doors, travel stopped almost completely, and events around the globe were cancelled.
However, in spite of all this chaos, one industry continued to thrive: the technology sector. The Unified Communications and Customer Experience markets evolved rapidly during COVID, promising organizations everywhere a new way to keep teams connected, and revenue flowing.
While the shockwaves of the pandemic are still evident around the globe, some organisations are left wondering whether the golden age of tech buying may be coming to an end.
Even as demand for CX and UC solutions remains high, vendors and end-users alike are divided over whether tech investment levels will remain as high as they were in the last 2 years.
While many are optimistic the industry will remain strong, others are predicting a significant slowdown, particularly as economic issues and financial strains continue.
Here at Today Digital, we believe it's time for a transition, from riding the wave of growth, to leading the way to continued growth in our industry.
Findings from the Tech Buying Landscape
In December 2022, Today Digital carried out a survey to learn more about our target audience, customers, and clients. Our research objectives focused on a few different areas.
In regard to all of our customers, we wanted to:
Identify the primary challenges and opportunities in the market
Understand how working, buying and promotional behaviors have changed post-pandemic
Determine how to better explain what Today Digital does
Explore industry sentiment on key topics to help with content generation
In our advertiser and sponsor segment we looked at:
Identifying primary marketing objectives and drivers of spend
Determining preferred channels
Exploring the level of understanding/commitment to demand generation
Determine reporting and ROI expectations
Identify where the most funding is allocated in the sales funnel
For our readers, we were looking at:
Understanding media consumption changes by format (particularly focused on email)
Comparing the needs, preferences and behaviors of channels and end-users
Through this research, we found the majority of the technology vendors we surveyed had seen a significant increase in revenue as a result of the pandemic. However, 38% said they are now expecting sales growth to slow, as we move away from lockdowns and restrictions.
Our Plans for Preserving Growth
According to our research, the market is brimming with uncertainty. Companies aren't sure for certain whether opportunities are still rife in the sector, or whether they should expect a significant slowdown. We believe this means our team at Today Digital need to work harder to demonstrate what we can do for our clients.
Just as we're committed to making sure our clients continue to have the right impact on their industry with engaging and insightful marketing campaigns, we need to ensure our relevance in the UC and CX sector is consistent. Our goal isn't just to ride the success waves of the market when it's thriving but also to nurture the industry and ensure growth for our clients in times of uncertainty.
With that in mind, we're doubling down on finding new and improved ways to deliver value to those in the complex technology landscape. We believe the key to success for any struggling company will always be to build stronger relationships with its target audience.
Now isn't the time for businesses to cut back on making the right impact. The customers are still out there, and the businesses that thrive will be the ones that partner with highly engaged platforms and channels, capable of connecting their brand with the right personas at the right times.
At Today Digital, we're committed to being one of those channels. In 2023, our psychographic, behavioural, and intent-based marketing campaigns will be more refined than ever, ensuring we can bridge the gap between our clients and their end users.
Growing Competition Means the Right Marketing is Crucial
During downturns and uncertain periods, studies show that successful companies are the ones that take strategic approaches to maintaining their long-term brand health and relationships with customers. If the market is about to cool down in the technology space, that doesn't mean companies should take a back seat with their promotional campaigns.
The last couple of years have led to a significant increase in competition among new vendors, with new entrants and product launches appearing all the time. That means businesses need to fight even harder to be seen and heard above the clutter.
Investing in effective marketing will not only continue to be essential during this difficult time, it could be more important than ever. Companies will need to focus not just on making noise, but on building brands that engage their customers and pave the way for stronger relationships.
Demand generation, lead generation, and engaging experiences like hybrid events are likely to become a crucial part of any B2B tech brand's strategy.
Addressing the Challenges in the Tech Market
For years, we've worked with the peaks and troughs of the technology industry, helping companies to reach their audience in every kind of environment. Now, as the market appears to be changing once again, we're taking additional steps to address the challenges our clients face.
Our recent investment in the DemandStudio launch is a significant part of our strategy to bring more data-driven marketing results to our clients. But we know there's still more to be done. In 2023, we'll be working harder to reduce the time it takes to execute campaigns, increase access to first-party data, and deliver even more value to our customers.
Over the next few months, we'll be continuing to release our market insights, to keep everyone up-to-date on how the industry is evolving. Check back for more information soon.