Demand Remains High Despite Uncertain Economic Conditions
Will Demand Continue to Thrive for B2B Tech Solutions?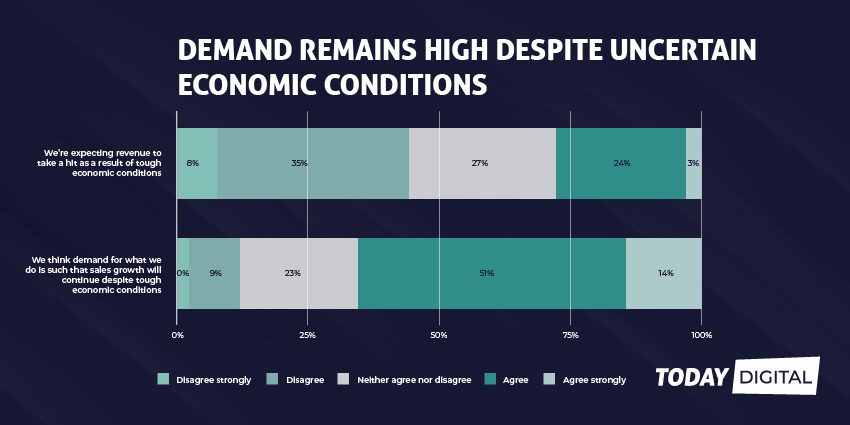 It's a challenging time for technology companies and their customers. Over the last couple of years, numerous challenges have emerged across the B2B tech landscape. Not only are businesses struggling with consistent supply chain issues and delays, but energy prices are skyrocketing, material costs are increasing, and stock prices are beginning to dip for even the biggest brands.
It's a drastic shift, considering how healthy the technology sector was only a year or so ago. Throughout the pandemic and in the last two years following its peak, many technology brands invested in rapid growth, building on the momentum caused by the acceleration of digital transformation. Now, uncertainty is everywhere.
Major organizations have begun laying off employees to keep costs low. Projects have been put on hold by technology vendors across the landscape, and analysts are left wondering what the future has in store for the technology sector overall.
This is a time for businesses in the technology sector to redefine their marketing strategy, upgrade their lead generation campaigns, and ensure they're equipped for success in the years ahead.
The Current State of Demand in the B2B Tech Buying Landscape
Given all of the confusion and chaos in the current technology space, it'd be easy to assume tough times are ahead. However, our research suggests the path ahead isn't as filled with doom and gloom as it may appear. In a recent report, only approximately 27% of respondents said they believed their revenue would definitely take a hit as a result of the current landscape.
That being said, brands aren't overly convinced they're primed to thrive in the years ahead either, with only around 43% saying they believed their revenue would stay strong going forward. The research suggests uncertainty has well and truly kicked in for the technology landscape, but there are still opportunities out there for growth.
After all, investing in technology is still a necessity for most brands as they strive to stay ahead of the current landscape. Even with a potential recession to consider, companies still need to ensure they have the tools they need to communicate, collaborate, and ideate quickly and effectively. A difficult environment may even increase the demand for tools and technologies capable of streamlining processes, reducing costs, and improving revenue.
In our latest insights survey, 65% of respondents said they believed the demand for what they were selling or offering would continue, despite the current climate. Only around 31% felt demand would drop.
Since technology remains an essential investment for many companies looking to improve processes and increase opportunities, it's unlikely that interest in the landscape will disappear completely. However, there's bound to be a change in consumer priorities. With higher operational costs to consider, and limited budgets, the market will become more price sensitive.
Businesses will become more cautious about how they spend their technology budget, and they'll want to ensure they're getting a rapid return on investment. As competition increases, brands will be under more pressure to ensure they're adhering to the needs of their clients.
What Can Marketers Do in This Difficult Time?
Effective marketing and a strong investment in brand awareness are important for any business, no matter the state of the landscape. However, the right promotional strategy can become increasingly crucial during an economic downturn. During these difficult times, buyers will actively be looking for more information to guide their decisions and show them which businesses they can trust.
Now more than ever, it's essential for businesses to ensure their marketing strategies are highlighting the value of their products, and connecting with customers on an emotional level.
Of course, it will be important for businesses and their marketing teams to rethink their approach in the current climate. For instance, while in-person marketing, events, and experiences are beginning to rebound, they may not be the right solution for cash-strapped companies.
Marketers need to focus on delivering rapid and demonstratable ROI. The focus will be on delivering excellent results, while spending as little as possible.
Hybrid events and digital experiences, combined with high-performance demand generation strategies will be the key to filling lead funnels in 2023. These strategies will ensure companies can continue to connect with their customers on an emotional level and generate loyalty without risking budget on expensive production costs.
At the same time, hybrid events and digital experiences increase the scope and scale of marketing strategies, allowing companies to access a wider selection of potential leads. It's not just businesses facing budget problems at the moment, tech buyers in the B2B landscape won't always have the financial resources required to travel to and attend physical events.
Staying Ahead of the Curve
At a time when layoffs and budget cuts are rife, it will also become more essential for business leaders to ensure they're working with the right partners to make their marketing strategies a success. Collaborating with publishers capable of offering direct access to an engaged audience can offer brands the agility, speed, and excellent ROI they need, with minimal initial investment.
Progressive online publishers, such as Today Digital, are transforming to address the challenges of this new marketplace. They're focusing not just on brand awareness, but also on-demand creation and capture, supporting businesses through all stages of the marketing funnel.
Combining this level of end-to-end support with access to valuable first-party data, our team is working on helping vendors to access not just a higher number of tech buyers – but the right customers, with a higher intent to purchase.
By focusing on the development of highly targeted, engaging, and data-driven campaigns, we're assisting technology companies in accelerating the sales funnel, and preserving their lead-generation tactics during a difficult period.
Reach out to Today Digital today to learn more about how we can help your business survive and thrive in the economic downturn.